Our company is supplying the market with different metal products. The parts and tools manufacturing activity has a remarkable share in our yearly turnover. We're operating with up to 100 employees in the capital city of Hungary, Budapest.
FEW REASONS TO CHOOSE US
Decades of experience in

deep drawing and extruding

Unique knowledge in

forming of aluminium, carbon steel and stainless steel

Delivering certified,

welded parts for railway cars

Complex production possibilities in-house:

plasma cutting, cold forming, machining, welding, surface treatment, Teflon® covering, painting, heat treatment

etc.
TECHNOLOGIES
Fine plasma cutting
Up-to-date equipment to cut structural steels, stainless steels and aluminium.
Cutting range: max. 40 mm thickness, 1500×3000 mm table
Cold forming
Deep drawing – Extruding – Bending – Punchcutting
Hydraulic presses: max. 630 tons force, tables up to 1300×1300 mm
Excenter presses: max. 100 tons force, tables up to 600×900 mm
Machining
Available equipment:
NC/CNC lathes, milling machines, planers, drilling machines
Welding
Aluminium: TIG, MIG-MAG
Steel: TIG, MIG-MAG, stud arc welding
Certification according to EN 15085-2 CL1 and EN ISO 3834-2.
Heat treatments
Aluminium: quenching and tempering, annealing
Steel: quenching and tempering, normalizing, annealing
Pressure test
Water pressure test up to 950 bars
Surface treatments
Aluminium: degreasing, oiling
Steel: degreasing, manganese phosphate coating, oiling
Coating
Teflon® covering – Painting
3D measuring
High precision measuring arm
REFERENCES
Developing and manufacturing aluminium gas cylinders.
Production of steel and aluminium parts for railway cars.
Producing brake cylinder and air spring parts for vehicles.
Manufacturing gas evaporator equipment.
Planning and manufacturing tools for cold forming, both for our partners and for our own machines.
Covering parts for the food-, plastic-, chemical- and printing industries.

For further information and quotation please contact us on our
sales@alurt.hu
e-mail address!
Certificate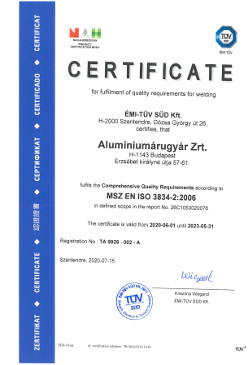 certificate download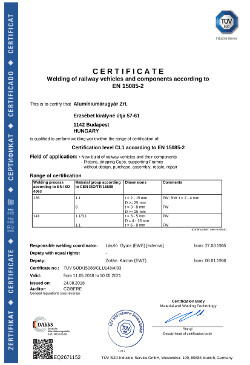 certificate download