The Aluminiumarugyar has 100 years of history; it was established in 1899. It was transformed into a Public Limited Company in 1993. Today, the company is still one of the leading players of the Hungarian aluminium mass production.
We were the first one in Europe to manufacture low pressure, welded aluminium gas cylinders. Furthermore, we have been producing gas cylinders suitable for storing and transporting propane and butane (LPG) and refrigerant gases for industrial and domestic usage for 60 years. Furthermore, our activities include the production of steel or aluminium parts of brakes with cold deformation used in rail vehicles. Our experience gained during decades of manufacturing is used to improve the quality of our standards.
With our fine plasma cutting device we are able to cut steel, stainless steel and aluminium parts of any size and form from metal sheets. The cutting equipment is primarily used for our own manufacturing purposes; however beside we can provide lease work for welding (MIG, MAG, TIG), teflon and phosphate coating, heat treatment, deep drawing and machining.
Our decisions are strongly influenced by our business philosophy: to ensure safe working environment and to fully comply with the environmental regulations.
We have nearly 100 employees, who are committed to satisfy our customers and to the success of our company. Our well trained team aims to find state-of-the art and quality solutions for the challenges of the market. This commitment is incorporated in each and every gas cylinder we manufacture.
Our location has great advantages for easy access and parking, therefore we also rent out some of our facilities. Several successful company rents offices, warehouses or workshop from us.
CERTIFICATE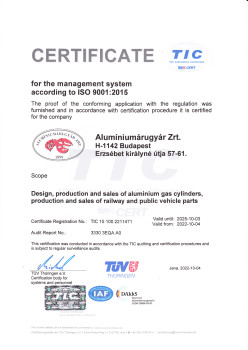 download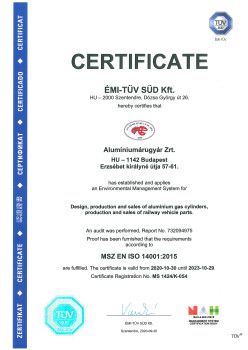 download

download